TIMBERLINE MEDI SPA
Our Products
TIMBERLINE MEDI SPA
Our Products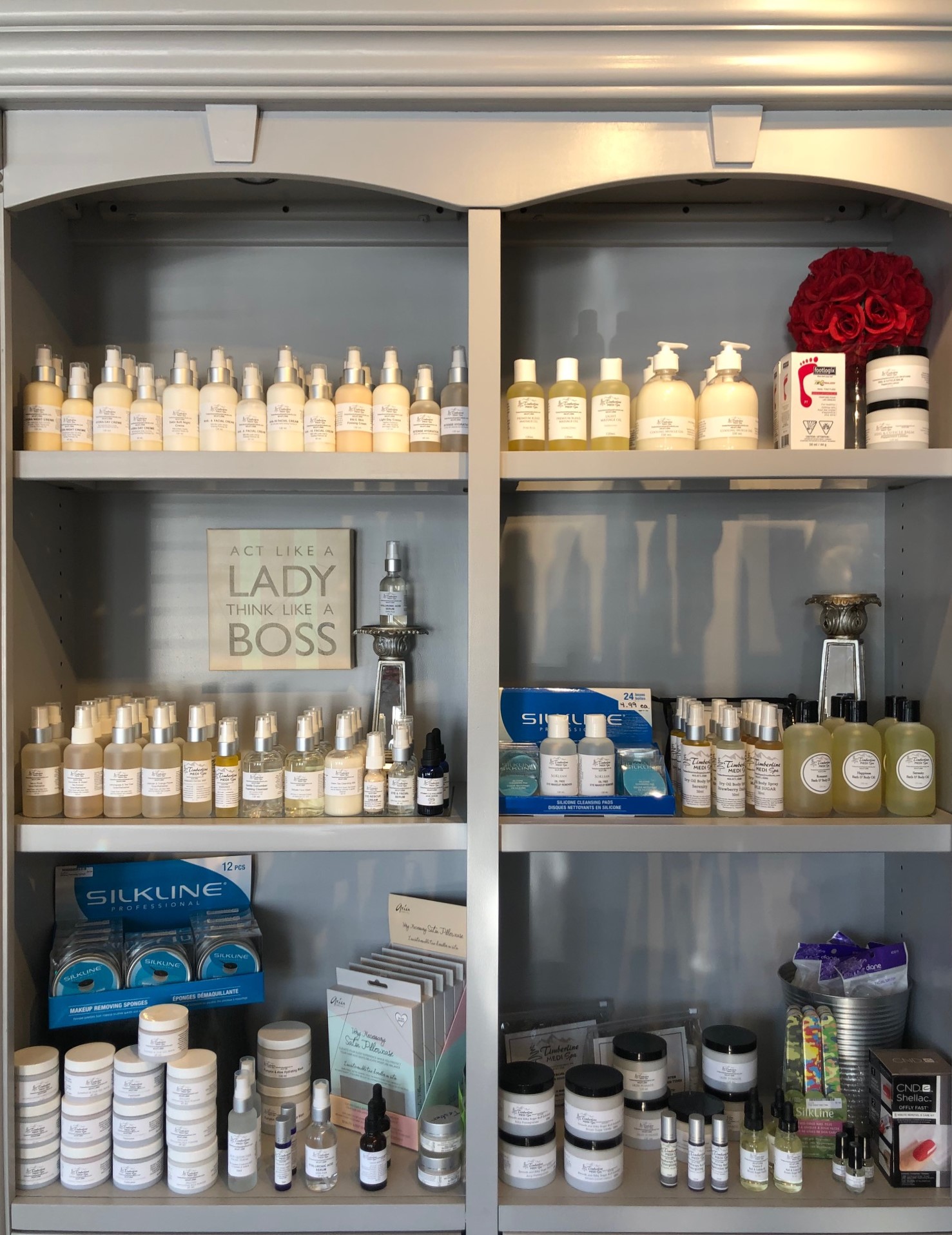 Timberline Medi Spa Signature Products
We are not only excited but very proud of our Signature skin care line. Canadian made by hand, with care and integrity in small batches.
Whatever your skin type or age, show your beautiful face to the world with a large range of our high quality natural products.
The development of our products are based on sound scientific principles and the physiology of the skin.  Clean and gentle, with simple yet elegant packaging.  You will not find any parabens or petroleum, however we use essential oils and ensure pH balance.
Timberline use the goodness of natural materials with beautifying ingredients that benefit all skin types.  Scrubs, masks, toners, moisturizers and skin care products that refresh and hydrate your skin.  Not only do they cleanse and nourish the skin but also relax and revive both the body and mind.
We invite you to give our products a try.  We are confident our Signature skin care line will convince you on their own merit and are an excellent alternative to conventional cosmetics.
PLEASE SELECT FROM THE MENU BELOW FOR PRICING
Skin Care:
Hydra Day Cream with CoQ10, 60ml $15 and 120ml $30
Hydra Night Cream, with CoQ10, 60ml $16, 120ml $32
Light Day Cream, 120ml $20
Satin Soft Night Cream, 120 ml $20
AHA 6 Facial Cream, 60 ml $15, 120ml $30
AHA 10 Facial Cream, 60ml $15 and 120ml $30
Vitamin C Skin Firming Cream, 120 ml $37
Intense Hydration, Oil Free, 60 ml 15, 120ml $25
Hyaluronic Acid Serum 100% Pure, 30ml $45
Oil Free Eye Makeup Remover, 120ml $18
Skin Pomade, 125ml $16
Skin Conditioning Treatment Cream, with unrefined Shea Butter, Organic Argan Oil & Vitamin E, 125ml $17
Tamanu Healing Beauty Oil, 30ml $20
Skin Care Facial Care Systems for Oily, Sensitive, Dry & Mature Skin, Normal Skin (5 simple steps), kit $50
 Prices may change without notice
Anti-Aging:
Radiance, Anti Aging Serum, 25ml $25
Radiance Facial Mist, 50ml $20
Eye Rescue Cream, 15ml $30
Eye Facial Serum, 30ml $32
Vitamin C & Hyaluronic Acid Serum 10%  $38
Skin Quencher Facial Serum, 50ml $40
Matrix 3000, Line & Wrinkle Remover, 10ml $25
Wrinkler Defense HA Cream, 30ml $39
Masks:
Whipped Honey Green Clay Mask, 60ml $12.95
Whipped Pink Clay Mask, 60ml $12.95
Seaweed & Silk Gel Mask, 60ml $15
Whipped Rhassoul Clay Mask, with Frankincense, 60ml $12.95
 Pumpkin & Aloe Hydrating Mask, 125ml $18
Miracle Mask Kit, Green, Charcoal, Pink or White, $26
Face Wash:
Delicate Face Wash, 120ml $15
Gentle Cucumber Foaming Cleanser, 120ml $15
Green Tea Cleansing Milk, 120ml $15
Toner/Refresher:
Natural Witch Hazel & Aloe, 120ml $12.95
Tea Tree Floral & Witch Hazel, 120ml, $12.95
Lemongrass Floral Water & Witch Hazel, 120ml, $13.95
Cucumber & Green Tea Toner, 120ml $12.95
Lemon Grass & Tea Tree, 120ml $12.95
Lavender & Orange Toner, 120ml $12.95
Exfoliants:
Delicate Exfoliating Rice Powder, 60ml $12
Gentle Sugar Exfoliant, 125ml $13.95
Bath & Body:
Bath & Body Oil, 250ml $23
Dry Oil Body Spray, 50ml $19
Moisturizing Bath & Body Gel,

500ml $18.95

Hand & Body Lotion, Maple Sugar, H2O, Spa Therapy, Strawberry Champagne, 250 ml $14.95
Foaming Bath Salts, 100g $4.95, 250ml Jar $12.95
Foaming Hand Soap, 250 ml $6.95
Moisturizing Hand Soap, 330ml $9.95
Smooth & Silky Sugar Buff Exfoliant, 120ml $14
Manicure & Pedicure:
Vitamin E Nail & Cuticle Oil, 5ml $6, 30ml $12.95
Heel & Cuticle Balm, 125ml $20
Spa Ritual Polish, $9.95
Morgan Taylor Polish, $9.99
OPI Polish, $10.95
Hand Sanitizer:
Sani-Soft Antibacterial Hand Gel , for superior skin softening:  500 ml, $20, 1 Litre $35
Sani-Soft Antibacterial Hand & Hard Surface Spray:  120 ml $8.95
Massage:
Premium Blend Massage Oil, 120ml $10.95
Light Massage Oil, 120ml $10.95
Cooling Muscle Gel, 330ml $25
Aromatherapy Roll on Essential Oil, 10ml $20
Lip Balm:
Moisturizing Lip Balm, $9.99
Tinted Moisturizing Lip Balm $11.99
Other Retail Products:
IMAGE SKIN CARE & SUNSCREEN
CARA Tinted Moisturizers
GLOW Tinted Moisturizers
EYENVY, Lash Conditioner – for Longer, Thicker & Voluminous Lashes, Mascara, Eyeliner
Footlogix